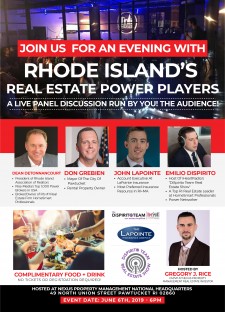 PAWTUCKET, R.I., March 9, 2019 (Newswire.com) - Nexus Property Management has been selected to host the first ever conference of 'Rhode Island's Real Estate Power Players'. This real estate related conference will feature a panel of 4 industry leaders that include:
Dean DeTonnancourt - President of Rhode Island Association of Realtors
Don Grebien - Mayor of the City of Pawtucket
John LaPointe - Account Executive at LaPointe Insurance
Emilio DiSpirito - Host of the 'DiSpirito Team Real Estate Radio Show'
The event will be hosted and emceed by Nexus Property Management GM/VP Gregory J. Rice.
There is no registration or ticketing required. It is a first come first serve style event that will include complimentary food + drink. There is parking available off street in Nexus' lot.
The event is a live panel discussion run by you in the audience. Where else do you get a microphone and the ability to talk directly to those on top of their game? Unheard of!
The event date is June 6, 2019, at 6 p.m. at Nexus Property Management's National Headquarters located at 49 North Union Street Pawtucket RI 02860.
Source: Nexus Property Management
Share: