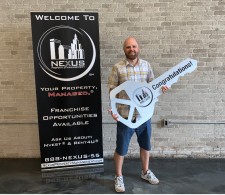 WORCESTER, Mass., August 25, 2020 (Newswire.com) - Nexus Property Management is pleased to announce its expansion into Worcester, Massachusetts. The newest franchise location was officially opened on Aug. 1, 2020. It is located at 16 Austin Street, Worcester, MA, 01609 in Downtown.
Speaking about his path with Nexus, Owner/Operator Jesse Mayo says:
"I've had my current job for a while. I go to the same spot every single day. I deal with a lot of the same exact customers, deal with the same issues, and almost the same employee problems. With Nexus, however, I completed my franchisee training at the headquarters in Pawtucket, Rhode Island, and discovered how much the career has to offer. I wasn't buying into a job, I was buying into a lifestyle that I can continue to grow my real estate portfolio, expand my knowledge, but also have time for my family + leisure. Triple win in my book."
Jesse started his real estate investing career just four years ago on the website Bigger Pockets. There, he connected with Nexus' GM/VP Gregory J. Rice. From there, Gregory was able to take Jesse under his wing and help him start acquiring assets. Fast forward to 2020 Jesse now owns six different pieces of property with 20+ units. This is a direct result of his hunger, motivation, and solution-focused mentality.
Jesse will bring the experience he learned being a customer of the Nexus Pawtucket office and translate it into how he treats his clients in Worcester. It doesn't get any more organic than that.
Worcester is the second most populous area in Massachusetts and boasts a great deal of tenant-occupied property in dire need of professional, full-service management solutions. Jesse is excited to fill this void, effective immediately.
Source: Nexus Franchise, LLC
Share: