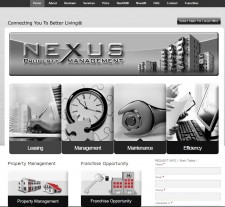 Property Management Franchise Opportunities Available In Worcester, Mass.
WORCESTER, Ma., February 21, 2018 (Newswire.com) - Nexus Property Management™, a nationwide property management franchise, is searching for prospective candidates to apply and open offices in assorted locations throughout New England. The Pawtucket, RI based company started in 2012 and has since expanded into Massachusetts, and currently has office locations pending in Kentucky and Florida.
The location that is currently available for opening in Worcester, MA. When asked about this location Founder/CEO Nicholas D'Agnillo stated, "The reason why these types of cities are on our radar is that they are similar in nature to our Headquarters and Massachusetts locations. In New England, mill towns such as these cities, have densely populated areas with a sea of multi-family & single family homes. This is exactly where our franchise model will thrive."
Though the Nexus™ franchise model can work in any area where rentals exist, the ideal scenario is to step in where an area is average/below-average in condition and provide a new found, hassle-free opportunity to those property owners. Many of the former mill towns, as mentioned above, have been neglected and abused over time. When Nexus™ steps in it can offer a short & long term solution to gradually get the properties back to their optimal condition. All the while, increasing the tenant retention and improving the overall value of the asset. It is a win-win situation for property owners and tenants alike.
What is also important to these future office locations is to have VISIBLE street frontage. Nexus™ does not thrive being on the 3rd floor of a cookie cutter office building. Its presence needs to be seen and felt from all who pass by. D'Agnillo continued to state, "Nexus™ is not a fancy shirt and tie operation. We manage properties for the common man and woman and want someone walking by to be able to come in, have a coffee, and chat with us, no appointment needed. The more barriers a business puts up, the further they extend themselves away from their community. That's not how Nexus™ started, or will ever be."
Nexus™ offers state of the art software, systems, and philosophies to promote efficiency to its employees, owners, and tenants. They are available 24 hours a day, seven days a week, 365 days a year, with live online options available no matter where you are in the world. Rent collection, maintenance, leasing, and evictions, are normal day to day operations for Nexus. With below industry standard pricing, thousands of owners have chosen to have Nexus™ in their corner!
To learn more about the franchise opportunity, please visit: www.nexuspropertymanagement.com/franchise
Source: Nexus Franchise LLC
Share: