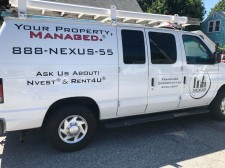 DESTIN, Fla., October 1, 2018 (Newswire.com) - The property management industry along Florida's beautiful Emerald Coast will soon welcome a formidable competitor in the person of Marvin Schwarzenburg and Nexus Property Management™.  
Nexus is a one-stop property management and realty investment company that has drawn upon initial successes in and around Pawtucket, Rhode Island, to expand its franchise concept nationwide. The Pawtucket location manages about 650 units and calls a renovated 60,000-square-foot industrial space in downtown Pawtucket home. A second location in Fall River, Massachusetts, has expanded so rapidly that another location in Massachusetts is likely within the next year. As part of its expansion strategy, Nexus has highlighted the Florida Panhandle as an economic and demographic area that would be a great fit for a Nexus franchise.
Schwarzenburg will be opening the third Nexus Property Management™ office in Destin in the next couple of months. His Nexus office will service residential properties all year round along Route 30A from the Marler Bridge as far west as Panama City Beach. With an attention to detail that has brought him success in past ventures, Schwarzenburg is confident in his ability to bring increased value to rental property owners where current property managers are coming up short. "All too often, maintenance issues are not being tended to. Each individual issue might not mean much to some of the larger property managers here but it means something to the families who saved and paid their hard earned money for this vacation." This dedication to all facets of the business and to adding value for owners while still catering to the needs of tenants is a major reason Nexus has grown so successful so quickly.
Nexus Property Management™ franchises are available nationwide and recent interest has come from states up and down the Atlantic Coast. They pride themselves on a model that is built for efficient scalability via low startup costs and minimal overhead. These factors decrease potential hardships and enable franchisees to grow their business at their own pace. In addition to unrivaled leasing, maintenance and management services, Nexus also separates itself from the competition through unique services like their Nvest® buyers' agency program and Rent4U® tenant placement services. Franchisees benefit from professional training and support along with exclusive use of Nexus' educational platform, proprietary and privately labeled software, lifelong SEO/Adwords campaigning, social media management and industry-leading advertising strategies. To find out more, visit NexusPropertyManagement.com or call at 888-NEXUS-55.
Source: Nexus Property Management
Share: