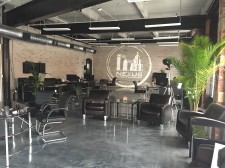 PAWTUCKET, R.I., February 24, 2020 (Newswire.com) - ​​Nexus Property Management and Leshinsky Finance have been making some great strides towards getting the former Arnold Stable in Downtown Pawtucket redeveloped into luxury apartments. President of Leshinsky Finance, Michael Leshinsky, has been working alongside Nexus' CEO, Nicholas D'Agnillo, for two years now. Nexus' GM/VP, Gregory J. Rice, met with Leshinsky to get an update on the project. Leshisnky stated:
"Nexus Property Management and Leshinsky Finance have moved the Nexus Lofts redevelopment close to a reality. Together, we have now received Federal Incentives (aka Historic Tax Credits) and City support through a 10-year Tax Treaty. In addition, we are currently working with Commerce Corp RI for the newly unveiled Streamline Rebuild Program.
"We are awaiting to receive (any day now) the written Phase II Environmental Study results. Based on our conversations and recent improvements, we expect that this will come back with nothing preventing us from development.
"Not only would we be the first for the new Rebuild State Program, but we would also be the first to receive the new Revolving Fund Loan for the Rhode Island Infrastructure Bank!
"We feel blessed to be able to receive two first of its kind incentives, and we are thrilled what we will be able to provide to the local Pawtucket Residents."
Source: Nexus Franchise, LLC
Share: