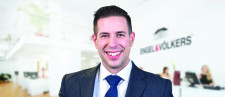 EAST GREENWICH, R.I., May 27, 2021 (Newswire.com) - Nexus Property Management network affiliate Emilio DiSpirito has just closed on the highest price per square ft. home sale in Barrington, Rhode Island in the past three years. At $810 per square foot, Barrington property values will now see an increase across the community.
This custom-built 3,083 sq. ft. home nestled on Rhode Island's prestigious coastline has undergone multiple failed attempts under other brokerages to sell since 2016. DiSpirito understood that Fessenden would require an intricate marketing plan to succeed in reaching his target clientele.
"At Engel & Völkers, we take great pride in our innovative approach to marketing and access to a worldwide network of real estate professionals, two assets of our business that were crucial to employ for this sale," said DiSpirito. "Our global outreach aided in procuring an out-of-state buyer, a market that we have found completely untapped by alternate luxury options in Rhode Island."
DiSpirito spared no expense in preparing the waterfront home. Hiring a professional stager was his first order of business, a tactic that has historically earned his sellers up to 11% more for their homes.
"The homes that we sell are vastly different from one another; therefore, they all require a different approach," he stated.
DiSpirito equipped two of the property's heated garages with an array of exotic cars and hired professional models to enact a lifestyle video for the home. He hosted catered broker open houses alongside long-time partner Jackie Karam and employed a professional author to draft the homes listing description.
In addition, both the walk-out lower-level and proposed dock were virtually staged to assist in the buyer's exploration of the property's potential.
The sellers interviewed nine additional listing agents for the re-list in 2021. Suggested list prices ranged from 1.9 to 2 million dollars.
"We came in at 2.3 million," said DiSpirito. "Comparatively, this was an ambitious list price, but we understood the property's value."
Stagnant since 2016, the reimaged property received multiple offers in excess of the initial list price. The sale closed this Tuesday.
Engel & Völkers is quickly establishing themselves as one of the leaders in luxury home sales in Rhode Island. After an exploration of their marketing and listing processes, it is clear that this luxury brokerage is a pioneer in its market.
For additional information, contact emilio.dispirito@evrealestate.com
Source: Nexus Property Management
Share: